Top Polytechnic Colleges in Hisar – Admission 2023, Ranking & Fees
Updated on May 28, 2023: Top Polytechnic Colleges in Hisar 2023- As many choose a professional course to give a new height to own career. Obviously, you would also prefer to study the most famous engineering course after 10th education. Well, Polytechnic Courses in Hisar have been offering by Polytechnic Colleges which are approved by AICTE and affiliated to Haryana State Board of Technical Education.
If you're concentrating on getting Polytechnic admission or have an impulse to go off for the more details on polytechnic then you have come on the right place. This page is presenting the list of the best polytechnic colleges which are coming in Hisar location. Before checking the list, know the basic criterion which makes you eligible to pursue Polytechnic.
Highlights
| | |
| --- | --- |
| Name of Course | Polytechnic / Diploma |
| Course duration | 2-3 Years |
| Type of Course | Diploma Engineering |
| Eligibility | 10th / 12th with Physics, Chemistry and Mathematics / ITI |
| Admission Process | Direct | on Merit base | HSTES Entrance Test |
| Fees | Rs. 30000 – Rs. 50000/-* per year |
| Number of Colleges | 3 |
| Minimum Marks Required | 35% |
List of Top Polytechnic Colleges in Hisar 2023 [Updated]
There are several Polytechnic Colleges in Hisar including Private Polytechnic Colleges and these colleges are dedicated to develop your attractive professional career by providing technical education as per the industry need.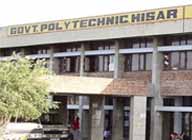 Government Polytechnic, Hisar
Affiliation: HSBTE
Course Offers: Polytechnic
Founded Year: 1992
Address: (GJU S&T), Delhi Bye-Pass Hisar Haryana-125001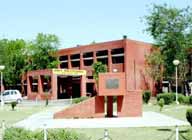 Government Polytechnic, Mandi Adampur
Affiliation: HSBTE
Course Offers: Polytechnic
Founded Year: 1985
Address: Mandi Adampur, Bhadra raod Hisar, Haryana, India- 125052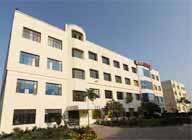 Affiliation: HSBTE
Course Offers: Polytechnic
Founded Year: N/A
Address: NH-52, Hisar-Chandigarh Road, Hisar, Haryana - 125001
---
Top Engineering Colleges in Hisar
Top Diploma Engineering Colleges in India 2023
Top Polytechnic Colleges in Delhi
Top Polytechnic Colleges in Sonepat
Top Polytechnic Colleges in Bahadurgarh
Top Polytechnic Colleges in India