Bihar Polytechnic Admission (DCECE) 2021 – Eligibility and Last Date for Application Form
Bihar Combined Entrance Competitive Examination to release exam all dates for Polytechnic Fulltime and Part time- Check A Complete guide for Bihar Polytechnic admission 2021 with the latest information, get started now!
Updated on April 2, 2021: Polytechnic Course has become a vital programme of engineering course (it is diploma based). Any candidate might take Polytechnic admission in Bihar who is having minimum 35% marks in the matric education. But as per the Bihar State Technical Board Polytechnic admission must full fill the criteria of the board. We have tirelessly worked to curate information about Bihar Polytechnic Courses, education and admission procedures. So before going forward, we must know about DCECE because Bihar state technical board offers admission based on only DCECE, The DCECE stands for Diploma Certificate Entrance Competitive Examination. However, the board has announced the exam date to conduct for Polytechnic admission in the state. So you don't forget to know most important event of Bihar Polytechnic.
How to apply Bihar DCECE 2021 for Polytechnic Admission?
In order to apply Bihar Polytechnic application form students required to fill the correct details as per asked in the form. Few things are most important like personal details with your updated photo and at the end you will have to make payment for registration.
Applicants are advised that keep the important documents while applying online registration form in-front of you, required information given below.
Email id
Mobile no
Scanned / Soft copy passport size photograph (Less than 100KB)
Scanned / Soft copy of signature (Less than 100KB)
Aadhar Card* (if available)
Credit card, Net banking or ATM-cum-Debit card if available
Updated Notice on Bihar Polytechnic Admission 2021
In below picture, dates are released by the official now you can apply application form for Bihar Polytechnic admission.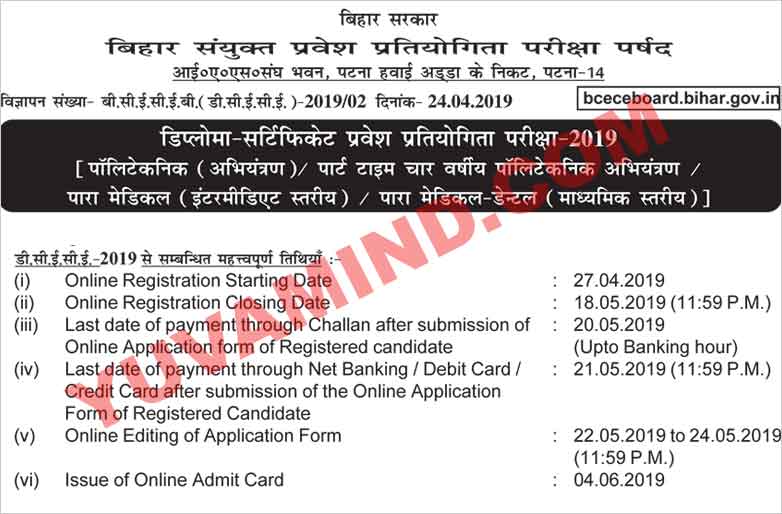 PDM Polytechnic College Admission Open Apply Here!
PUSA Polytechnic Admission Open Check Here!
Delhi Institute of Tool Engineering Admission Open Check Details!
---
---
You may also like
Latest updates of the best Polytechnic College check the complete details
Top Polytechnic College in Patna